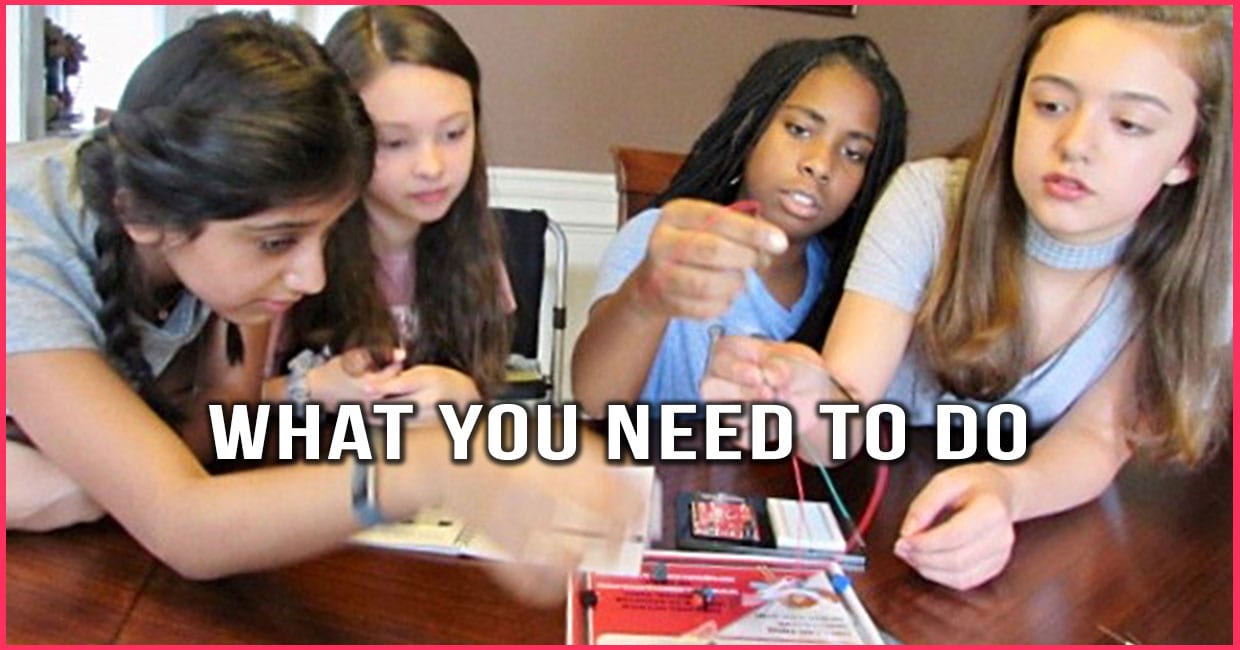 What You Need To Do To Enter
Register:
You will first need to register as an individual or as a team. If you are registering a team, please be sure to provide details of all team members on the form. Once you register, you will be able to switch between individual or team until you submit the project. Once your project is submitted, you will not be able to make any more changes.
To enter the maker competition you will need to follow these steps :
1) Register Your project – This is where you wow us with your creativity and building skills! Your project should address a solution for a problem that you identify. The problem can exist within your own community or in the larger world that you believe is important to solve. Once you identify the problem, you will apply the design thinking process to build your solution.This solution can be an app, a device, a circuit that accomplishes your goal, a robot, or a working model built with materials of your choice. Making is a wide field and you can get as creative as you want to. Please be wary of using hazardous materials and always put safety first. You can get help from others to learn to use tools or programming but the project you submit must be built by you without external assistance. Make sure to test your solution and make adjustments as necessary. Feel free to contact us if you have any questions about what qualifies as a project.
2) Shoot a video – This is the fun part. Create a video presentation of you explaining your project and demonstrating how it works. Be sure to include a description of the problem, why you chose it and your solution. You must demonstrate how your project works and how it solves the problem. There is no specific format for this video, so go ahead and get as creative as you want. Videos must be from 3-5 minutes long.
3) Write your project report – Your report is a written description of your project. It should include :
a) The problem statement – Write clearly and explain why this is a problem within your community or in the world. Provide data, examples, etc to show the impact of the problem.
b) Your solution – Here you will write about your solution. Include a description of the solution, how you applied the design thinking process, what technology or concept your solution is based on, the materials you used, the procedure you used to build it, test it and adjust it and finally, how your solution addresses the problem. You can provide data, charts , analysis, and results here.
c) Write about what you have learned from this project – The goal of the maker competition is to encourage you to learn new skills and apply old ones to the design process. We want to know how participating in this competition helped you grow as a maker. Write a report about what skills you used in your project – programming, soldering, programming, electronics, using some specific tools – tell us how this competition challenged you to apply your existing knowledge and motivated you to gain new ones. Tell us your previous experience as a maker. If this is your first time, tell us what you loved about making.
4) Submit your project – Once you register, you will receive a link to a submission portal. Upload your video and your project report before the deadline.
5) Timeline –
Register: Registration opens on Saturday, February 1, 2020 and ends on Thursday, July 30, 2020 at 11:59 pm. You will need to register first to be able to submit your entry. You can register any time before the deadline,  but all entries must be submitted before the deadline to be eligible for judging.
Submit: All entries including the video and the project report must be submitted no later than Thursday, July 30, 2020 at 11:59 pm.
6) Sit back and wait for cool prizes !